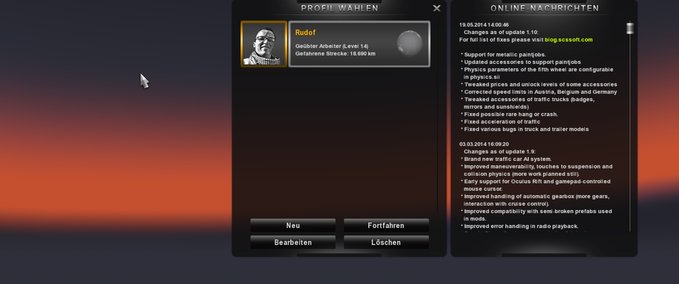 This is my previous savegame, which I've built up WITHOUT CHEATS.
Since your level 13 and have just over 2.5 million euros in the account.
Also, you can Volvo FH16 193 and Scania R730 two (one of which Streamline), spread over 51 garages call your own.
Until now you have only 154 drivers since the Arbeitsargentur currently offers no additional labor.
The savegame is running properly on the latest version (1.10.1) of ETS2.
It is located in a RAR archive, must therefore be unpacked.
The resulting folder named "5275646F66" must:
My Documents / Euro Truck Simulator 2/profiles
I play with the Going-East-DLC, that is, to use everything correctly, you will need this also.
I play WITHOUT MODS, so you will need for this savegame none!
It will come in course of time more "updates" once something has significantly Changed.
Now I wish you lots of fun.
I know that the real meaning of the game, namely high working his is taken with it.
But everyone should play the game as it is fun for him.
And for someone who only occasionally wants to drive his truck through the counter, the savegame is suitable in my opinion very good.
mfG Heino
Credits: LohnunternehmenHofmann
This is a Euro Truck Simulator 2 ( ets2 ) Mod, in category Tools
Image 1 Image 2 Image 3 Image 4 Image 5 Image 6 Image 7 Image 8
DOWNLOAD Link: CLICK