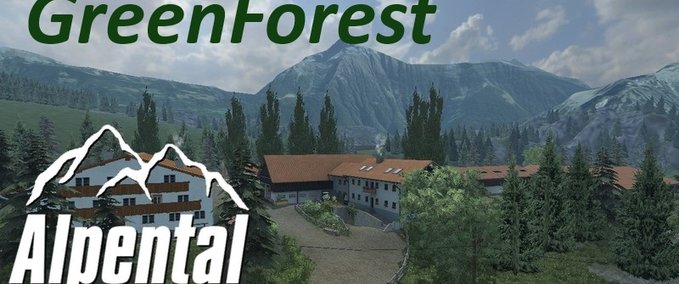 Alpental v 1.5 Green Forest
Since the version 1.4 was not yet mature, I sat down again on it and some "change" verändert.Aus was a complete remodeling of the landscape and infrastructure. Shall I installed ignorant as objects where was not clear whether I should or not. Thank you .. Dear modders that I could use this. One more thing straight away, a time private reasons, I could not create the new PDA Map and arrange the start vehicles. I hope it does not bother. So now time to the map.
I HAVE NOT AWARE IN THE CREDITS MENTIONED BECAUSE ME THE NOTHING GIVES ME THE MAP NOT HAVE BUILT BUT I PREFER MY THINGS WITH OTHER PARTS!
What's new?
– Map enlarged and extended to field 10 (Buyable)
– Field 3 has been replaced by meadow
– Smaller food storage on the farm
– 2 outdoor silos at the central warehouse
– New potato warehouse at the central warehouse
– BGA again Completely Revised
Relocated grain storage on the farm in silos –
– Orginales manure tank removed and replaced with square
– The old country store removed and installed Eifok country store (behind the BGA)
– Added vehicle dealer
– The country commercial vehicle dealer was moved
Added gas station –
– Much value have continued to put on performance
- Added 1.6 ha forest floor (Buyable)
Already built sawmill, wood chips, power plant and warehouse -
- Various changes to the sawmill and the forest added to the camps for logs
- And 100 other details
Sincerely,
"Das_is_doch_nix"
Patch 2.0 is required
Old Scores can not be assumed. Why? (Always wanted to sit on the trigger)
Welcome to beautiful alpine valley.
This map is ideal for the single player, but can also be easily played in multiplayer with your friends.
By creating an interesting design. Runs the map on older PC's fluid and smooth.
– Rotting is: OFF
– Grain maize can now also be incorporated on this map.
Features:
10 fields of 1 acre to 6 acres
Standard fruit
3 meadows
Pig
Watermod V3 (cows, sheep, chickens)
3 outlets (including vehicle dealers)
and much more
If you like it realisatischer, now bring this trailer the milk from the farm for sale at Eifok country trade. Attention, if its the milk is sold used the trailer no longer un 24 clock.
http://www.modhoster.de/mods/mobiler-milchtank–2
Required Mods:
PDA Fix http://www.modhoster.de/mods/pdafix
MapDoorTrigger http://www.modhoster.de/mods/mapdoortrigger–10
Joskin Betimax http://www.modhoster.de/mods/joskin-betimax-rds-7500–2
Recommended Mods: (Not to play required)
Forest Mod http://www.farming-simulator.com/mod.php?lang=de&mod_id=382
Animal status http://www.modhoster.de/mods/animalstatus–2
HiredWorkersConsumes …. http://www.modhoster.de/mods/hired-workers-consumes-fuel-and-seeds
Credits: das_is_doch_nix
This is a Farming Simulator 2013 ( ls 13 ) Mod, in category Maps & Buildings
Image 1 Image 2 Image 3 Image 4 Image 5 Image 6 Image 7 Image 8 Image 9 Image 10 Image 11 Image 12 Image 13 Image 14 Image 15 Image 16 Image 17 Image 18 Image 19 Image 20 Image 21 Image 22 Image 23 Image 24 Image 25 Image 26 Image 27 Image 28 Image 29 Image 30
DOWNLOAD Link: CLICK