In Pack includes 3 Trailers:
(*) Kroeger Agrolines SRB 35 Super Trailer
(*) Krampe BBE 500 Super Trailer
(*) Krone ZX 550 Super Trailer
Credits: this mod is made by SMK-Modding
DOWNLOAD 9 MB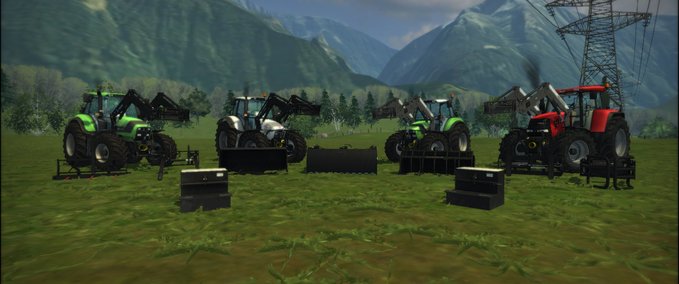 Ålö

Frontlader

und

Werkzeuge
Version 1.1.1

______________________________________
Modell, Textur, Ingame: MAurUS
Script: Giants, Face, fruktor, MAurUS
________________________________
Schlepper mit Frontladerkonsole:
Deutz Fahr TTV 430 (Für Trima +4.1p & Q56)
Deutz Fahr TTV 6190 (Für Trima +7.3p & Q88)
Deutz Fahr TTV 7250 (Für Trima +7.3p & Q88)
Hürlimann XL 130 (Für Trima +4.1p & Q56)
Case CVX 175 (Für Trima +7.3p & Q88)
New Holland T7550 (Für Trima +7.3p & Q88)
Für weitere Hinweiße lesen Sie die Readme.txt in der AloeFrontloader.zip Datei.
Ein Besonderes Dankeschön geht an:
Ålö AB, für die Bilder und Informationen.
Chefkoch und Hansi, fürs Testen.
Sven777b, fruktor & rafftnix, für Scripte.
Mod by Stefan Maurus, www.stefanmaurus.de
Credits: Stefan315
This is a Farming Simulator 2013 ( ls 13 ) Mod, in category Implements & Tools
Image 1 Image 2 Image 3 Image 4 Image 5 Image 6 Image 7 Image 8 Image 9 Image 10 Image 11
DOWNLOAD Link: CLICK
(*) Working with 6 meter
(*) Seed capacity 2400 liter
(*) Fertilizer tank capacity 1600 liter
(*) Ridge Marker
(*) Sowing Machine
(*) URF Seeder
(*) Driving Line
Authors: Giants Software, Firestorm87, webalizer, gotchTOM
DOWNLOAD 4 MB
Mercedes Actros 2048 Truck with front and back worklights
Authors: Lindemann, Lordtex
DOWNLOAD 12 MB
Dies sind Sound´s die man für sogut wie alle 6 Zylinder Motoren von John Deere verwenden kann, sprich die größeren Modelle der 6000er Serie und für die 7000er Serie.
Ihr bekommt Start, Run und Idle Sound + alle noch als eigene Indoorsounds.
Es muss nichts bearbeitet/zugeschnitten werden die sounds müssen lediglich in den Mod der wahl eingefügt werden.
MfG Flasher
Credits: Flasher
This is a Farming Simulator 2013 ( ls 13 ) Mod, in category Useful Thins
DOWNLOAD Link: CLICK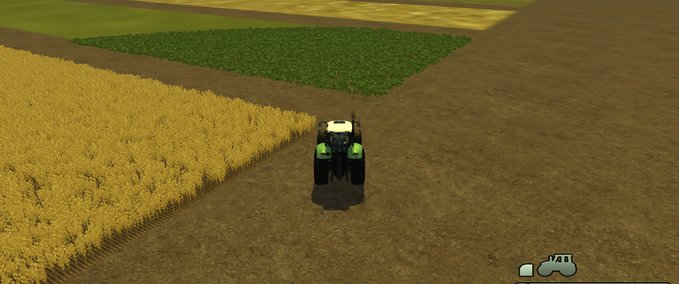 Hallo zusammen
Hier mal eine Überarbeitete Version zum Früchte einbauen. Alle Früchte sind mit Distance-Texturen versehen.
Enthalten sind:   Sunflower,  Soybean, Tomate, Gurken, Reis, Dinkel, Hafer,  Weiß/RotKohl, Karotten, Zwiebeln, Roggen, Triticale, Mohn, Erbsen und Grünweizen
Bitte der Einbauanleitung  folgen.
Kann auf allen Foren, aber bitte,  mit original Link angeboten werden.
Gruß Bummi.
Hello, together
Insert here sometimes a revised version to the fruit. All fruits are provided with Distance textures.
Are included: Sunflower, Soybean, tomato, cucumbers, rice, spelt, oat, White / red cabbage, carrots, onions, rye, Triticale, poppy, peas and green wheat
Please, follow the installation instructions.
Is able on all forums, but please, with original link are offered.
Greeting Bummi.
Credits: Bummi Brum
This is a Farming Simulator 2013 ( ls 13 ) Mod, in category Useful Thins
Image 1 Image 2 Image 3 Image 4
DOWNLOAD Link: CLICK
John Deere Mower lays on the grass in the middle, as in real
Credits: this mod is made by Cowboy
DOWNLOAD 3 MB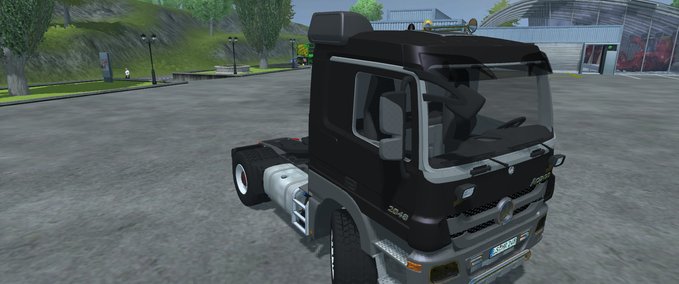 So people here my Actros MP3 saddle than 2.0.
 
 
MOD IS FOR THE PATCH 2.0.0.5 AND WAS IN SERVER DEDI MP TESTED!!
 
Chassis has been redesigned and standard couplings K80 (turntable, etc.) have been added. Handling characteristics have been revised.
 
Input Bindnig's
 
<input name="worklightsfront" key1="KEY_5″ button="" />
<input name="worklightsback" key1="KEY_6″ button="" />
<input name="A_Kupplung" key1="KEY_lshift KEY_5″ button="" />
<input name="K_Kupplung" key1="KEY_lshift KEY_5″ button="" />
 
A big thank you goes to the LU Lindemann team for many Tips & testing.
 
I hope I have made with the construction of the Actros your interest. With pos. or negative opinions I have no prob. as long as they are useful and not so give a crap as it too often here.
 
Support is exclusively only on
 
 
http://www.lohnunternehmen-lindemann.de/ required!!
 
It is forbidden to publish this work in the same, similar or modified form, without the consent of the author (Lindemann) again.
FORBIDDEN TO MAKE UPLOAD ON OTHER SERVER, IF NOT OBSERVED THE CONDITIONS OF
LICENSE. And 'FORBIDDEN TO DISTRIBUTE THE MOD SO DIFFERENT FROM THE ORIGINAL
 
FILE WITHOUT YOUR INSTALLER! COMPATIBILITY FOR THE BEST MULTIPLAYER GAMES PLEASE KEEP IN ORIGINAL DOWNLOAD LINK
Credits: Lindeman
This is a Farming Simulator 2013 ( ls 13 ) Mod, in category Vehicles
Image 1 Image 2 Image 3 Image 4 Image 5 Image 6 Image 7 Image 8 Image 9 Image 10 Image 11 Image 12 Image 13 Image 14 Image 15 Image 16 Image 17 Image 18 Image 19 Image 20 Image 21 Image 22 Image 23 Image 24
DOWNLOAD Link: CLICK