International Skin for Scania R Truck
Tested on 1.25
Credits:
Slavaska
DOWNLOAD 26.8 MB
Respect authors work do not reupload
enjoy
Author: Alexandar Lone Wolf
DOWNLOAD 321 KB
Simple skin maded for a Scania RJL v2.0
respect authors work do not reupload
enjoy
Author: Alexandar Lone Wolf
DOWNLOAD 289 KB
Girl & Dracon Skin for Scania Streamline Truck
Tested 1.25 Game Version
Author: Aleksandro
DOWNLOAD 5 MB
Croatia Transporti Skin for MAN Euro 6 Truck
Tested 1.25x version
Author: MaruskicCRO
DOWNLOAD 21 MB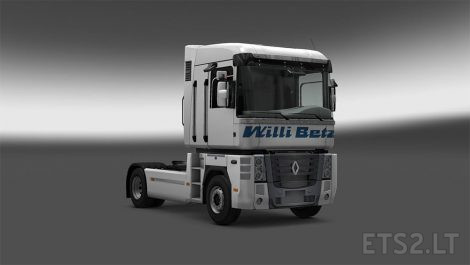 Willi Betz Reno Magnum Skin
Tested on 1.25 wokr super 😀
Skin price is 0 and required level is 1 🙂
Enjoy in my SKIN 😀
Credits:
Gile004
DOWNLOAD 29 KB
Taken from original coloring pages of trucks
Test v1.25
Credits:
Vaska, klains
DOWNLOAD 220 KB
This is the Walton Transport skin I uploaded earlier but this time the side skirts have 'Scania' on them and the back of the cab has 'Walton' on it just like the real life trucks. Please delete the previous skin if you have it already and use this one instead. Sorry about the inconvenience folks.
Credits:
Tristan Doran
DOWNLOAD 21.4 MB
Limited "High Edition" for Renault Range T by R.T.A Mods.
Hope you enjoy it!
Author: OveRTRucK
DOWNLOAD 21 MB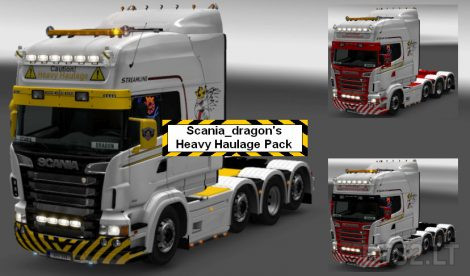 Welcome to my heavy haulage Paintjob(s) for Scania R&Streamline by RJL!
This package contains two white&red colored and one black&yellow colored skins for Scania R&Streamline Modifikation by RJL.
It contains several decals from and/or for Scania Trucks.
The main color is white and the radiator grill and so many parts (chassis,
tread plate, side plates, mirrors) and decals has red and yellow colors.
Furthermore it contains colored "Scania Greif" decals on sides.
Paintjob1: Schwertransport 1 (Backgroundcolor: White, decals and parts: Red)
with Schwertransport characters on top lightbox
Skin created by scania_dragon based on original decals
Credits: RJL, SCS, scania_dragon
Paintjob2: Heavy Haulage (Backgroundcolor: White, decals and parts: Black and yellow)
with Heavy Haulage characters on top lightbox
Skin created by scania_dragon based on original decals
Credits: RJL, SCS, scania_dragon
Paintjob3: Schwertransport 2 (Backgroundcolor: White, decals and parts: Red and black)
with Schwertransport characters and "Achtung" sign on top lightbox
Skin created by scania_dragon based on original decals
Credits: RJL, SCS, scania_dragon
Compatible to ETS2 V1.25.x & Scania R&Streamline by RJL (v 2.0)
Modmanager-Ready
Kind regards to you and have much fun, scania_dragon
Authors: RJL, SCS, scania_dragon
DOWNLOAD 2 MB