Skin Quad For Scania R 2009 Truck
Tested 1.27.x
Credits:
Cu6up9k
DOWNLOAD 5 MB
Volvo FH16 2012 Average Five skin
Test on v1.27
Credits:
Cruise
DOWNLOAD 21 MB
Bravel
Information:
Truck: DAF XF E6
Company: Bravel
Country: Croatia
——————————————————————————————
-Realistic and high resolution 4K Bravel textures
-Realistic UI Workshop icon
-Including Manifest
-Metalic Skin Option
-Made in coorporation with Bravel
-Works best with Ohaha DAF XF E6 Mod
-Made Skin ready for Combo Packs
-More Secured Skin
-Works on 1.27.x and up!
——————————————————————————————
For Mod requests and questions:
——————————————————————————————
https://www.facebook.com/pages/Euro-Truck-Simulator-2-BiH-Stranica/522085814478248?ref=bookmarks
http://www.wotbalkan.cf/
——————————————————————————————
This work is protected by International Interlectual Property copyright laws.
Real life replicas are made under the Creative Commons License.
Alteration is permitted distribution is permitted with indication of
The author and the original link to Sharemods.
Credits:
Boss
DOWNLOAD 436 KB

Tested on 1.27!
New skin only for Scania RJL from czech company Vápeník. Lightbox and skin for kvas_cistern by RommiTZ included.
Recommended mods
– [RJL] Scania R & Streamline Modifications
– [powerkasi] Scania RS Addons
– [powerkasi] Light & Accessory
– [50keda] Wheels Pack
– [RommiTZ] TZ Express Trailer Pack
Specially created for
– Higline cab
– 4×2 chassis
!!! Please don't edit and reupload without my permission !!!
Enjoy 🙂
Credits:
Roman71
DOWNLOAD 1 MB
This mod only include the Truck skin, not trailer or tunning
Hope u like it ;D, its my First skin
Credits:
Lukas-CargoTLN
DOWNLOAD MB
Dracon v4 Skin for Scania T Longline Truck
Test version: 1.26
I wish you a pleasant game!
When you distribute to other sites, keep the author's link.
Credits:
Aleksandro
DOWNLOAD 21.4 MB
[orange] RJL Scania R/S/T Military SkinPack v.1 by Cp_MorTifIcaTioN
[white] Tested and adapted to the game version: [orange] 1.26.XX
Have:
13 UHD 4k resolution army camo skins pack working on all chassis and cabin (include tandem)
#Read_Rothbard!
To Install: Copy the .scs file to the path: Users[UserName]DocumentsEuro Trucks Simulator 2Mod
And remember to activate him on the launcher menu.
#Read_Rothbard!
[purple] Allow to edit and correct errors. Allow to repost if maintening original links.
Credits:
Cp_MorTifIcaTioN
DOWNLOAD 79 MB
Tested on 1.26.x
It works only with Topline Cabin
You can share it only if you keep the link and credits
Credits:
Catalin
DOWNLOAD 21 MB
Renault Magnum Stadler skin
Test on v1.26
Credits:
Cruise
DOWNLOAD 5.4 MB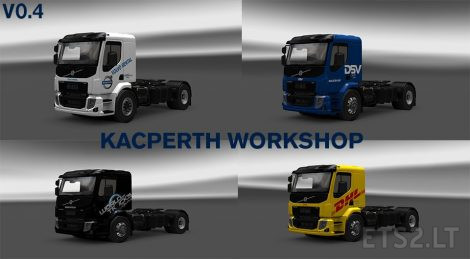 This is one of my paintjob packs from my new topic on the forum, It was tested in V1.26 and had no problems or crashes. I will post more paintjob packs whenever I have them finished.
Credits:
Kacperth Workshop, LS3DWorks
DOWNLOAD 357 KB