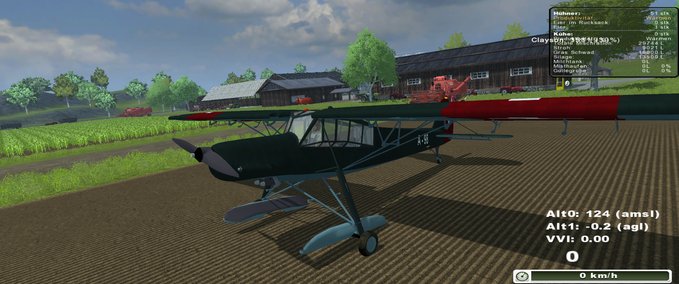 Fieseler 156 "Storch"
Entwickelt und gebaut 1936 als ein Kurzstart- und Landeflugzeug mit Langsamflugeigenschaften.
Bei entsprechendem Gegenwind konnte der Storch auch in der Luft stehen oder sich gar rueckwaerts bewegen!
930 kg, 240 PS.
Sehr einfache Bedienung im Spiel, speziell gemacht fuer Spieler, die keinen Flugsimulator bedienen wollen.
Autor 3d-Modell: DeEspona
Umbau 3d-Modell: modall
Konvertierung LS2013: modall
Scripts: Sven777b, PeterJ, Templaer
Ausstattung:
Animierter Propeller
Faltbare Fluegel
Abschleppstange
2 Kamera-Ansichten
Sounds
Logfehlerfrei
(bis auf traffic collision trigger)
Das von mir veraenderte Modell ist frei für jeden und darf ohne weitere Erlaubnis
modifiziert und neu veroeffentlicht werden. Upload auf jeder Seite erlaubt und erwuenscht.
Bei Veroeffentlichung muessen alle oben genannten Authoren erwaehnt werden.
Kommerzielle Nutzung strikt verboten.
_____________________________________________________
Fieseler 156 "Storch"
Constructed and built in 1936 as a short takeoff and landing aircraft with slow flight capabilities.
With matching front wind, the Storch could stand still in the air or even move backwards!
930 kg, 240 HP.
Very easy ingame handling, especially made for gamers who don't want to play a flight simulator.
Author 3d-Modell: DeEspona
Modification 3d model: modall
Conversion FS2013: modall
Scripts: Sven777b, PeterJ, Templaer
Features:
animated propeller
foldable wings
tow bar
2 camera views
Sounds
no log errors
(except traffic collision trigger)
This model altered by me is free for everyone, and may be altered and re-released
without any further permission. Upload on any site permitted and wanted.
For release please name all mentioned authors.
Commercial use strictly prohibited.
_____________________________________________________
Mirror:
http://www.file-upload.net/download-8698639/Fi156Storch.zip.html
Credits: modall
This is a Farming Simulator 2013 ( ls 13 ) Mod, in category Vehicles
Image 1 Image 2 Image 3 Image 4 Image 5 Image 6 Image 7 Image 8 Image 9 Image 10
DOWNLOAD Link: CLICK