Category Archives:
Euro Truck Simulator 2
(*) Lighting scripts
(*) Added tires
Authors: giants, surrealcrash, 924power, Texturepack
DOWNLOAD 23 MB
Little Village Map
Authors: ModMens, Deiviuks
DOWNLOAD 186 MB
Ursus 914 Tractor with Frontloader
Authors: Czarny317, Deadinko123
DOWNLOAD 30 MB
(*) Added wheels
(*) Smaller Big Bud (now normal size)
(*) Realistic Exhaust Particle System
(*) Handbrake
(*) Added hydraulics
(*) Double wheels
Credits: this mod is made by BalintKopsan
DOWNLOAD 14 MB
Reha Holding Edition Volvo Truck with Trailer
(*) ES Limiter
(*) Rotor
(*) Lighting v 3.1
(*) Operating Hours
Credits: this mod is made by East Side
DOWNLOAD 55 MB
(*) Clover and alfalfa as a cover crop
(*) Map Hose Ref Station at the biogas plant and the Cow pit the main courtyard
(*) Kalk, Manure slurry Mod
(*) Purchasable biogas plant
(*) Purchasable farm with biogas plant
(*) Gates to open with the Map Door Trigger
(*) Traffic light system with built in flash function
(*) Completely new designed scenery with unique road network
(*) 2 wide. Courtyards, one of which is purchasable
(*) 2 outlets. Agravis country trade, grain Roth
(*) 2 villages
(*) 3 Forestry Forests for the soon to be released Forstmod
(*) Many purchasable fields
(*) 70 ha of arable land
(*) Traffic, pedestrians in the village, milk truck
(*) Cows, chickens, sheep
Credits: this mod is made by NKB-Modding
DOWNLOAD 151 MB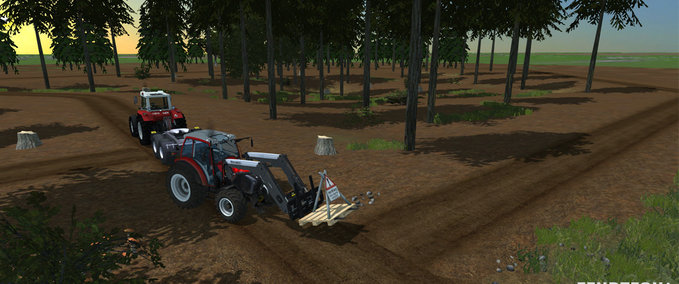 Dieses Forstpack beinhaltet Mapobjekte und 2 kaufbare Objekte für euren Wald. Wichtig! Dieser Mod hat nichts mit dem Forstmod zu tun, dieses Pack wird NICHT benötigt zum Forstmod. Der funktioniert auf allen Maps, ohne Einbau!. 
Dieses Pack ist dazu da um einen realistischen Wald zu erstellen, mit einer Waldboden Textur und vielen Waldwegen. Desweiteren beinhaltet des Pack 3 Platzhalter, welche die genauen Maße der Forstmod Gebäude hat. (Danke an rafftnix!). Damit ist es möglich schon die jeweiligen Plätze bzw. Grundstücke vorzubereiten, um dann schon den richtigen Platz für die Forstmod Gebäude zu haben. 
Eine Einbauanleitung liegt im Download bei! Sollten dennoch noch Fragen aufkommen, nutze bitte das Support Formular.
Inhalt:
Forsstraßen mit 2 Texturvarianten
Forstschild zum Einbauen in die Map
Forstschild auf Palette ( für den Frontlader )
Forstschild plazierbar
Terrain Textur, passend für die Forststraßen
Platzhalter für Gebäude des Forstmods (richtige Abmessungen) 
Infos:
Forstschild plazierbar: 50 LS€
Fortschild Palette: 110 LS€
Daten:
Forstraßen 400 – 4 k Polys
Forstschild einbaubar 48 Polys
Forstschild mit Palette und Coli 400 Polys
Credits: Fendtfan1 (Chris)
This is a Farming Simulator 2013 ( ls 13 ) Mod, in category Maps & Buildings
Image 1 Image 2 Image 3 Image 4 Image 5 Image 6 Image 7 Image 8 Image 9
DOWNLOAD Link: CLICK
This is BigBud 747 tractor for farming simulator 2013 game.
I have permission by emo panda.
New wheels with great textures.
Credits: BalintKopsan
This is a Farming Simulator 2013 ( ls 13 ) Mod, in category Tractors
Image 1 Image 2 Image 3 Image 4 Image 5 Image 6 Image 7 Image 8 Image 9 Image 10 Image 11 Image 12 Image 13 Image 14 Image 15 Image 16 Image 17
DOWNLOAD Link: CLICK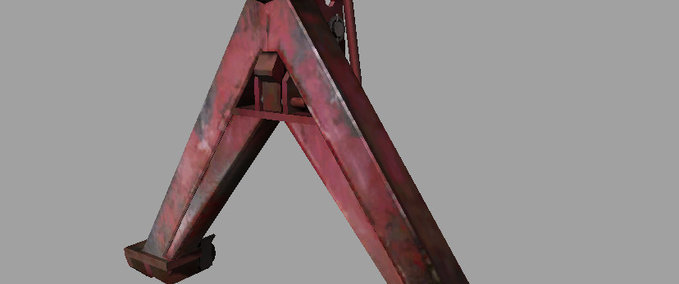 Here's a Weiste triangle with a new texture used in red. A quick coupler function exists, but only for appropriate devices (Unfortunately, there are not very many of them).
Model: steyr1
Script: Face
Performance Tuning: MadMax
Publisher: SFM-Modding (LS 09)
Ls2013 Tag: jomaule
Texture (edited): LwFarming
Have fun!
Credits: LwFarming
This is a Farming Simulator 2013 ( ls 13 ) Mod, in category Implements & Tools
DOWNLOAD Link: CLICK