Category Archives:
Euro Truck Simulator 2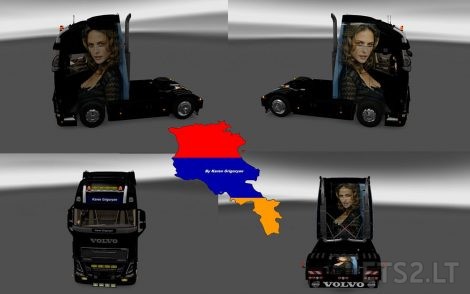 Skin Josie Maran Skin for Volvo FH 2012-2013 ohaha Truck
Game version 1.24
Author: Karen Grigoryan
DOWNLOAD 2 MB
Hay this is Scout(Skoda)Tuning skin work perfect in 1,24 you need to be leval 10 to unlock this i houpe to laike my skin 😀 😀 😀
Credits:
andreynfsgta5
DOWNLOAD 21.4 MB
This is my first mod, a RJL Scania skin of real life UK company Richard King Haulage. Enjoy!
Author: Ryaskins
DOWNLOAD 21 MB

– Skin Scania Streamline
– Flags (Mod working only with DLC National Windows Flags!)
– Pennants (Mod working only with DLC Cabin Accessories!)
https://www.facebook.com/CrowerCZ
https://www.youtube.com/user/TheCrowerGames
Author: CrowerCZ
DOWNLOAD 5 MB Complete Pack
DOWNLOAD 21 MB Skin
DOWNLOAD 396 KB Pennants
DOWNLOAD 20 MB Flags
Skin Mc KNIGHT for track mod Scania R&S Topline by RJL
Tested in game version 1.24
Author : Bayun4ik
Please dont re-upload without the author's link!
Credits:
Bayun4ik
DOWNLOAD 296 KB

Standalone
Spelled out in the salon – DAF
Prescribe homepage (gallery)
1 Cabin
2 chassis
Support for DLC Cabin Accesories
There is a tuning
wheels
Changes:
Replaced sounds (much like at maximum) real sounds I do not have a will and redesigned.
I changed the texture of interior on the real 2106 + added wood trim.
I changed the car weight (reduced to kamfortnoy drive (physics does not allow for real))
now the car goes into a skid, as well as being under heavy braking,
braking intensivnost stavte on: min.
I changed engines.
1 PPC – real gear ratios.
He added "Icon" VAZ where – Accessories.
He has changed the location of the sensor on the speedometer "high beam".
I changed the speedometer
Tested version: v1.23, 1.24
Authors: M @ x_1996; adaptation and change: RNV_Nik1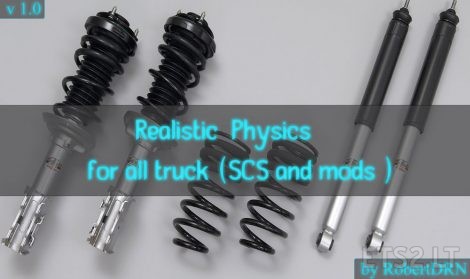 Now work on all trucks mods ( in v1,0 don't work on any mods )
– all trucks scs (and mods)
– all trailers scs ( and mods)
– Work on Scandinavian Trailers (DLC)
– work with any car ( tested with Jeep )
– In the next update I modified chassis of all trucks to be more realistic and I will make air suspension for all scs truck.
Please don't change download link
Author: RobertDRN
DOWNLOAD 3 MB

Added -New Glass wipers.
-New Metallic Compatible with DLC.
-New Light Mask Added.
-New Wheels and Tires Added.
-New Steering was added.
-New Ways Computer Added
Added -New cockpit.
-New Animation Added Indicator.
-New Sound Added.
Compatible with DLC -New cabin.
Tested Game Version: 1.24.x
Download the trailer can be purchased from the Iveco alabilirsiniz.Internet gallery.
Setup: exiting the rare "ets_bmw_i8_v.2.0" ZIP files in My Documents / Euro Truck Simulator 2 / Take the mod folder and activate the game Mod Manager.
Author: Comodore
DOWNLOAD 44 MB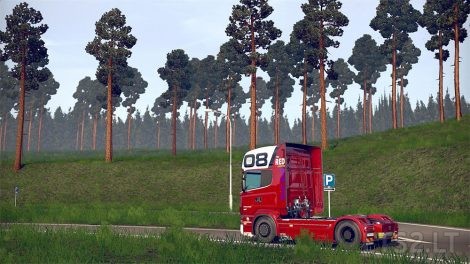 Hello my friends, i want present you my test summer mod, i tried to make it so real as real life 😀
Hope you like it!
Enjoy!
Please, save original link!
Credits:
SCS, Fenix, Павел Агарков
DOWNLOAD 176 MB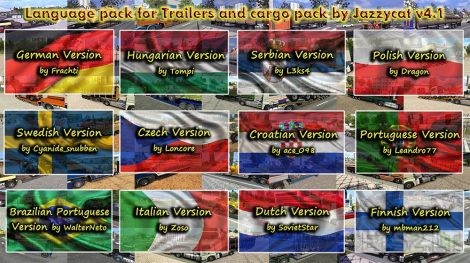 Additional language versions for Trailers and Cargo pack by Jazzycat v4.1: German, Polish, Italian, Czech, Swedish, Croatian, Finnish, Portuguese, Dutch, Brazilian Portuguese, Serbian and Hungarian.
You must have in mod folder three files:
trailers_and_cargo_pack_by_Jazzycat_v4.1_part1.scs
trailers_and_cargo_pack_by_Jazzycat_v4.1_part2.scs
and one from language versions.
See readme.txt for details.
Password for archive: Jazzycat
Update 2 – added Serbian and Hungarian versions.
If someone want to make translation into their native language email me [email protected]/* */ and I give you template for translation.
Credits:
Jazzycat, Frachti, Dragon, Zoso, Loncore, ace_098, Cyanide_snubben, mbman212, Leandro77, SovietStar, WalterNeto, L3ks4, Tompi