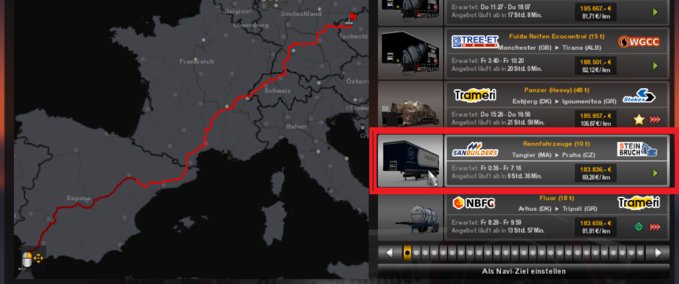 Here is the next user request, a standalone Profi Liner with its own freight.

Charge: racing cars

Weight: 10 tons

ADR Class: None

Design: Williams F1 Team "Susie Wolff"

Spawn: Everywhere except for the chemical, oil and gas companies (bcp, etc.)

Recipients: All except the above

Price coefficient: 2000 €
Because of the template, the design is unfortunately left to right, ie, the arc on the right side of the trailer is at the front and the image behind, on the left, the reverse is true. But text and logos are not mirror!

Just check the photos in the album on time. 🙂

Warning:

I had to take 2 other cargoes before the trailer was released in my job list, so do not be surprised if he is not right there.

Tested on 1.8.2.5s but created with the latest ETS2 studio version, so it should work in the new versions.

If someone is so nice, he's ok in the Com write obs.

Have fun with it 🙂

————————————————– ———————————

Constructive criticism is as welcome as a rating.

While uploading on other sites, Credits net forget!

Credits:


Profi Liner by SCS
F1 Skin with Ghost Design

Credits: Ghost001
This is a Euro Truck Simulator 2 ( ets2 ) Mod, in category Trailer
Image 1 Image 2 Image 3 Image 4 Image 5
DOWNLOAD Link: CLICK