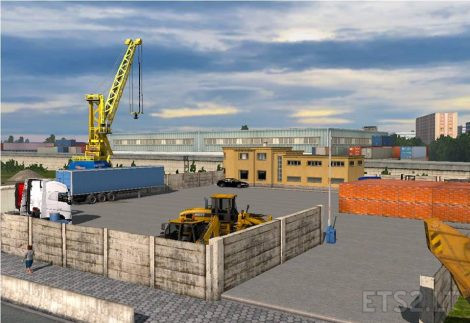 Tested at 1.27
Ban on posting to other forum
Have fun 🙂
Credits:
scs,Gawik,Base
DOWNLOAD 187.6 MB

Author: goba6372
Adaptation: _69_mf_, Pancha (finding problems).
Description:
Adapted to 1.27.x
Removed all the equipment except for MAN Magnet.
Removed extra shields (where was the passport photo) all over the map.
Sewn off-road trailers.
Road wheels for off-road trailers. (To put a higher card)
Now Russian police. (Thanks Jazzycat)
You can select the trailer model, replace the Magnet's tandem on semitrailer. (Watch the video)
The order of installation see on the video.
Profile:
In the archive you have created a profile for those who have problems with creating a new one.
Dlc_east DLC, dlc_fr, dlc_north.scs is disabled.
Recommendations:
Pack Russian traffic from Jazzycat
Credits:
goba6372
DOWNLOAD 2.3 GB part I & II
Hello there!
Mod will rebuild some main roads in Poland.
Actual mod version – 1.1.8
Mod contains Great Poland map and some minior changes in Slovakia.
Slovakia Add-on is also made by ModsPL.
Mod is for the newest version of ETS2 – 1.27
Changes in Poland:
-motorway S1
-motorway S7
-motorway EOW (more realistic)
Changes in Slovakia:
-highway D2 (rebuilded northern part)
-highway D3 (near Polish border)
-motorway R4 (added instead of D1 near Kosice)
-added Polish-Slovakian border
-Added new Slovakian signs font (doesn't look like Czech now)
-There aren't so many speedcameras
Other changes:
Added new loading screens (Great Poland)
Also added numbers of main roads (1-12) and voivodeships (provinces) of Poland
Rebuilded highways: A1, A2, A4, A6, A8
Rebuilded motorways: S1, S3, S6, S7, S8, S14, S17, S19, S51, S52, EOW
Rebuilded some parts of cities e.g. Gdańsk, Łódź or Szczecin
It won't work with ProMods
It works with DLC France but you don't need it.
(If you find a bug or an error please let me know in comments or send me an email ([email protected]))
DLC needed: Scandinavia, East
Enjoy!
Credits:
ModsPL
DOWNLOAD 18 MB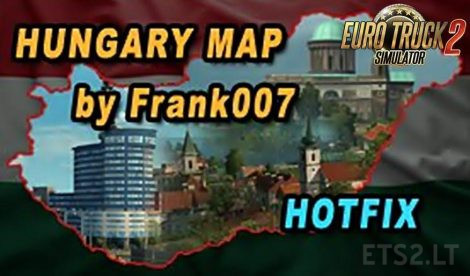 Quick fix for Hungary Map v0.9.28a and Ets 2 version 1.27.2.1 compatibility!
This patch eliminates the freezing of Hungary Map v0.9.28a during ETS 2 1.27.2.1 and 1.27.2.1s.
How to use:
Simply replace the "hungary_def.scs" file in the mod folder for this hotfix.
Note from the Author (indian56):
For the convenience of the new trailer of the "Heavy Cargo Pack",
I stopped the stopping surface of the "blue" gates opening automatically.
Credits:
Frank007, upd. indian56
Upgrade to version 6.5
Come and visit the South of the Russian Federation
For game version 1.27.XX
Key changes: new and updated cities and roads, support to run the game in DirectX and OpenGL
Full list of changes:
-Adaptation and technical improvement
-Support game version 1.27
-Game support for DirectX and OpenGL
-Improved performance
•The game world
-Added new locations, such as Nevinnomyssk, Kanevskaya, Semikarakorsk, Saranovskoe, Smolensk
-Added road Р268 Timashevsk-Starominskaya, Р251 Ust-Labinsk-Kropotkin, Smolenskaya-Saranovskoe-Highway M4″don"
-Added new forest roads to the plots
-Completely redesigned the city of Tikhoretsk and the section of highway Р217(M29″Caucasus") Tikhoretsk-Kropotkin
-Reworked a lot of roads with the use of new assets with asphalt HD, Russian road markings
-Added and changed some fork in the road, they are shown to their real world counterparts
-Improved such settlements as Tuapse, Krasnodar, Timashevsk, Novorossiysk, Adler, etc.
-Blocking a dead-end road crosses and arrows replaced
-Other cosmetic changes
•AI Traffic
-More agricultural vehicles on the road, passing farm lands
-Improved rail traffic: trains changed the physics, added a horn and a whistle for locomotives, shunting trains added, increased the diversity of locomotives and cars, reduced frequency of trains.
-Revised the density of traffic on all local roads
Compatibility: 2.16 map ProMods, RusMap map 1.7.2, paki traffic from Jazzycat. Compatibility with other cards not tested.
If You have no DLC "Vive la France", download and install the FIX . ATTENTION! This fix does not provide You access to the territories of France from the Supplement, but only gives the opportunity to play with modifications to require this addition. The location of the fix in the list of active modifications does not matter.
If You have a weak PC, then download and install the Addon , it will reduce the range of rendering hi-poly models of vegetation, which will provide a performance increase(higher FPS). In the list of active
modifications of this addon needs is ABOVE all connected modifications.
Credits:
RusMap, SimKA, klipstoeun8839, Koral, OSTeam, FLD, TZ, jon_ruda, Jazzycat, Sergei Afanasev, Vladzz-G.
DOWNLOAD 500 MB part I
DOWNLOAD 500 MB part II
DOWNLOAD 500 MB part III
DOWNLOAD 500 MB part IV
DOWNLOAD 500 MB part V
DOWNLOAD 234 MB part VI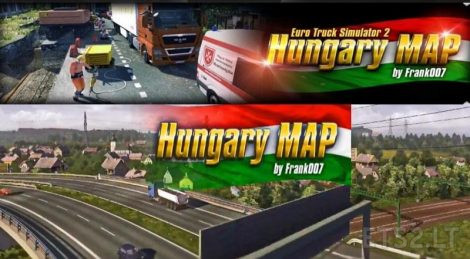 Standalone map modification for Euro Truck Simulator 2, containing a work-in-progress, 1:3 scaled representation of the Hungarian road system as it existed around circa 2002. The map is "standalone", meaning that it is independent of the default Europe map: you have to create a new profile to play it, and load it as a separate module. It does not require any of the official map DLCs to work (Going East, Scandinavia).
This version contains the following changes and updates:
– No new cities have been added!
– Several updates in the models and road network on the older parts of the map. The older areas received new models, prefabs, and more variety of interesting road scenarios to discover.
– Lots of map fixes. Hopefully you'll encounter much less invisible walls and other game-breaking bugs on the map.
Credits:
Frank007
DOWNLOAD 645 MB
Added new cities Rzhev Tver Smolensk
New cities are built in more detail
Rebuilt Brest
Rebuilt some parts of the road
Compatible with the card TSM installation card is shown in the inside file
Test 1.26 + France
Credits:
Author: diman26
DOWNLOAD 890 MB

This is the map mod for Euro Truck Simulator 2, which expands the game
world with detailed map of Balkans.
Requires Promods 2.15 and all three map DLCs to run. Runs only on latest ETS 2
update, 1.26.
Other map addons (e.g. RusMap, Poland Rebuilding) that are compatible with Promods also work with this mod.
Scandinavia DLC is required to run the addon.
Going East! DLC is required to run the addon.
Viva la France! DLC is required to run the addon.
Changelog:
Added Subotica (SRB), Novi Sad (SRB)
Added complete A3 highway (HR) from Zagreb to Serbian border, A3 highway (SRB) and 21 regional road (SRB)
Improved Ljubljana intersections
New features:
Croatia:
– Zagreb
– Osijek
– Slavonski Brod
– Virovitica
– Donji Miholjac (scenery village)
Bosnia and Herzegovina
– Brod
– Doboj
– Novi Sad
– Subotica
Serbia:
– Sremska Mitrovica
Mod manager order if you're using Promods and Rusmap:
Project Balkans Definition Package
Project Balkans Map Package
Project Balkans Assets Package
ProMods+RusMap Connection
RusMap Map Package
RusMap Model Package
ProMods Definition Package
ProMods Map Package
ProMods Media Package
ProMods Models Package 2
ProMods Models Package 1
ProMods Assets Package
RusMap Def Package
Credits:
grega, volan123, GamerHacker, Jazzycat
DOWNLOAD 73 MB