Tırsan Trailer
Version=1.27
Liftable Aks
There are mistakes v2 will come
Edit Free
Credits:
By.joaoppg, aBDuLLaH,Yunus Aman
DOWNLOAD 12 MB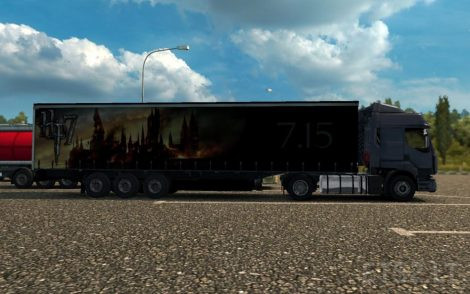 I searched and found that there were no Harry Potter skins for ETS2. So I looked up a tutorial and made my own! 😀 😀 😀
I'm really pleased with myself now. 🙂
Here's the sceenshots (they won't upload here for some reason): https://postimg.org/image/wmpxs07r7/
https://postimg.org/image/3yczos5kz/
https://postimg.org/image/647aja91f/
It's a trailer skin of the Deathly Hallows Part 2 teaser poster, with the tagline, 'It All Ends Here' and the movie release date (July 15th, 2011).
The trailer is in traffic as well as in jobs, and it is classed as bulk.
There are three types of cargo:
Deathly Hallows DVDs (10 000 kg)
Deathly Hallows Blu Rays (10 000 kg)
HP7 Posters (5 000 kg)
You can find the trailers at many places including Ika Bohag (Ikea); so it is available in Scandinavia if you've got the DLC. But it's fine if you don't have it, too.
I will probably make more HP trailer skins in the future.
I hope this brings joy to some of my fellow Potterheads who also play ETS2. 🙂
Happy trucking!
Credits:
Me (Hermironry/Radman26/The Charger Dude)
DOWNLOAD 3.5 MB
Skin Quad For Scania R 2009 Truck
Tested 1.27.x
Credits:
Cu6up9k
DOWNLOAD 5 MB
Volvo FH16 2012 Average Five skin
Test on v1.27
Credits:
Cruise
DOWNLOAD 21 MB
Bravel
Information:
Truck: DAF XF E6
Company: Bravel
Country: Croatia
——————————————————————————————
-Realistic and high resolution 4K Bravel textures
-Realistic UI Workshop icon
-Including Manifest
-Metalic Skin Option
-Made in coorporation with Bravel
-Works best with Ohaha DAF XF E6 Mod
-Made Skin ready for Combo Packs
-More Secured Skin
-Works on 1.27.x and up!
——————————————————————————————
For Mod requests and questions:
——————————————————————————————
https://www.facebook.com/pages/Euro-Truck-Simulator-2-BiH-Stranica/522085814478248?ref=bookmarks
http://www.wotbalkan.cf/
——————————————————————————————
This work is protected by International Interlectual Property copyright laws.
Real life replicas are made under the Creative Commons License.
Alteration is permitted distribution is permitted with indication of
The author and the original link to Sharemods.
Credits:
Boss
DOWNLOAD 436 KB

Tested on 1.27!
New skin only for Scania RJL from czech company Vápeník. Lightbox and skin for kvas_cistern by RommiTZ included.
Recommended mods
– [RJL] Scania R & Streamline Modifications
– [powerkasi] Scania RS Addons
– [powerkasi] Light & Accessory
– [50keda] Wheels Pack
– [RommiTZ] TZ Express Trailer Pack
Specially created for
– Higline cab
– 4×2 chassis
!!! Please don't edit and reupload without my permission !!!
Enjoy 🙂
Credits:
Roman71
DOWNLOAD 1 MB
This mod only include the Truck skin, not trailer or tunning
Hope u like it ;D, its my First skin
Credits:
Lukas-CargoTLN
DOWNLOAD MB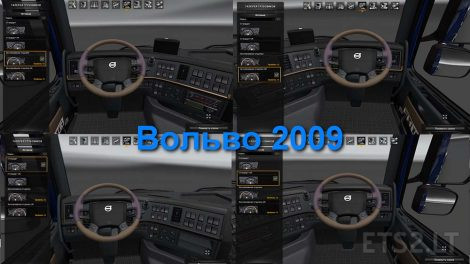 Animation of steering wheels for the following trucks:
– Renault (Magnum & Premium)
– Scania (R & Streamline)
– Volvo (2009 & 2012)
– Mercedes 2014
Credits:
INDIAN56
DOWNLOAD 3 MB

Current version: 1.1
Compatible Game version: ETS2 1.27
Creator: elitegamer0611
This mod removes old ugly intersection at this location and it places hand made, brand new and better one.
Changelog:
v1.0
– First Release
v1.1
– Fixed misspelled "Bruxelles".
– Fixed misplaced elevated navigation sign from Duisburg to Calais direction.
– Fixed ugly median metal barriers with concrete barriers.
You can find more info at SCS forum: http://forum.scssoft.com/viewtopic.php?f=32&t=241000
Credits:
elitegamer0611, SCS
DOWNLOAD 941 KB
That's the real water temperature
show the water temperature in dashboard
test on 1.27
Credits:
GadreeL
DOWNLOAD 9 KB